We love many things about our home...

Location, location, location!
Our home is about a mile off of I-35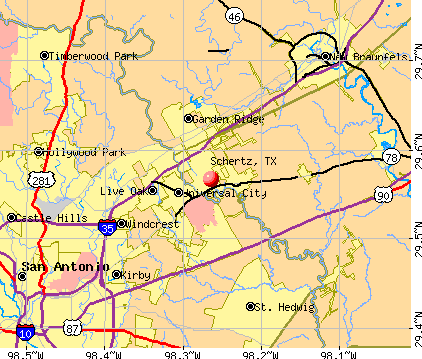 between San Antonio - home of the Alamo
& famous River Walk
and New Braunfels - where you find
America's number 1 waterpark -
Schlitterbahn
as well as 2 rivers, the Comal in Landa Park
and the Guadalupe.
Within 2 (two) miles from our home, you can shop at
Walmart, HEB, Lowe's Home Improvement and several strip malls
and even a giant flea market called Bussey's
(known for it's massive Armadillo out front).
dozens of fast food places and
restaurants just around the corner.
Our house is nice and roomy two-story
(about 2000 square feet), with four bedrooms - all upstairs,
the master bedroom is huge, has a pop-up ceiling over the bed,
a big walk-in closet and bathroom with a garden tub.

It is fairly new (5 years old) with upgraded insulation,
central heat and air, a 2 car garage that leads into
the kitchen through a pantry/laundry room.

The back yard is a nice size with a privacy fence.
We have even added a deck and planted trees

But now that Joshua has his ventilators, medical equipment, nurses, etc., we'd like to have a 1-story instead of a 2-story. And we need to find something not quite as expensive so we can pay off the rest of our debt.
We want to stay in the same area. Steffany has just one more year of school until graduation. We have a great system of nurses and doctors here and just love the school district. Plus James has a good job at FedEx Freight - which is just a short drive away.

So, we are looking for things we can do ourselves to fix up our house (even more) to get it ready to go on the market (probably in January).
We have already replaced our broken and dirty blinds with big 2-inch faux wood blinds - beautiful!
And we have replaced most of our brass light fixtures with very clean and beautiful brushed nickel fixtures.
We are looking into maybe adding crown molding and chair rails, etc. And I have been pouring over pictures of other homes in our area to see how our house compares.
I've also been looking for ideas to spruce up the place even more. One thing I'd kind of like to do is add a nice, waterproof tv in the wall over our bathtub in the master bathroom. I know that would be an instant selling point for James if we found a house in our price range that had one.
So, do you have any ideas you'd like to share? What features would you like to see in a home?
Coming soon... I'll take some more pictures of our progress to share... so check back.