We celebrated Thanksgiving (week) in our hometown of Odessa.
James' dad, Tom was released from the Hospice House Saturday as we left home and drove to Odessa. He was back home before we got there. He was in alot of pain, but at least he was stable and his fever was gone.
James' mom, Betty was still recovering from a surgery on both her feet, so she was not supposed to be up on them much - but she did it anyway.
We went to our parents' church (our old home church) West Odessa First Baptist Sunday. We had a good visit.
Monday, Tuesday and Wednesday, James got up very early (despite not sleeping much) and went to work out f the Odessa FedEx Freight office. They were so kind to let him work there so he wouldn't use up all his vacation time while we were out of town.
While James worked, Josh and I ran around with my mom... taking my dad to dialysis, grocery shopping, and even making a trip to the Goodwill store to buy some clothes. We also picked up my sister from the airport on Tuesday, after having lunch with James at work. Then, we took Amanda around and let her visit some folks she used to work with.
We hit the local Walmart store so many times, you'd think we were moving in there. But I guess that is not much different than back here at home.
Thanksgiving Day a cold front was expected to move in and bring rain... luckily, there were just a few sprinkles early on and the front was delayed until Friday night. Thanksgiving was beautiful - which was lucky for us because we had so many people at James' parents house that we had to borrow tables and chairs from church and set up outside under a carport. James' mother counted all who came by that day and the count reached 52! WOW. That is alot of turkey, ham, dressing, mashed potatoes, sweet potatoes, mac n cheese, pies, cakes and everything else you can imagine.
Steffany spent almost every minute of her time with her Nana, Papa, Aunt and Uncle. In fact, we barely saw her all week long. When we did see her, it sounded like she had caught a bug and wasn't feeling too well. Actually, we all spent some time during our holiday vacation with some sort of sickness - but I think most of us are either over it now or nearly there.
Our last night in Odessa, my mom, sister, Josh and I visited the local drive-in movie theater and watched Madagascar 2 and the newest 007 movie. I wasn't really planning on staying for the second feature.. but Josh and Amanda really wanted to stay, so even though the cold front was moving in then and it was getting chillier by the moment, we stayed.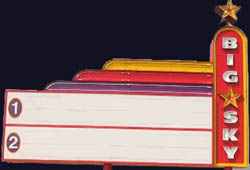 James got to visit a dear old friend of the four wheeled variety. His buddy, Kenny let him borrow his old Firebird that Kenny bought from James about the time Joshua was hospitalized and we no longer could afford to keep up the payments. James needed something to drive back and forth to work, and Kenny was driving another vehicle so he was happy to let James drive it again. James was in heaven :)
James dropped the car off Friday night while we were at the movies. Then, Saturday morning, we got up and started getting everything together for our drive back home. We were sad to say goodbye - especially realizing it might be our last chance to see James' dad, since his doctors say the cancer is progressing so. But it was good to get to see him at home this week.
Our drive home was pretty packed in since we had Amanda and her stuff with us on the drive back, but we made it okay.
We even stopped off to get a closer view of the Pecos River - something we talk about doing almost every time we drive over it, but never have done before. The water was really rushing - even though it is not deep.
We made it home Saturday evening - so we could have one day to prepare everything for back to school and work. Now, though, we wish we had a few more days. But it won't be long until Christmas break.